Asking a Question (Posting a New Thread)
To ask a question on the forum, you'll first have to post a new thread. Go to the main forum page (click the main logo to jump back there) and click on the forum name that matches your question area the closest, this will ensure that your question is categorised correctly. Once you've found the section, click it, then on the following page click the "Post Thread" button in the top-right corner of the page. This will take you to a new page where you can ask your question - make sure you enter a title that summarises your query (rather then just saying "help"), as this will make sure that the right people will see it. Use the main text box to ask your question in more detail.
Step 1:

Step 2: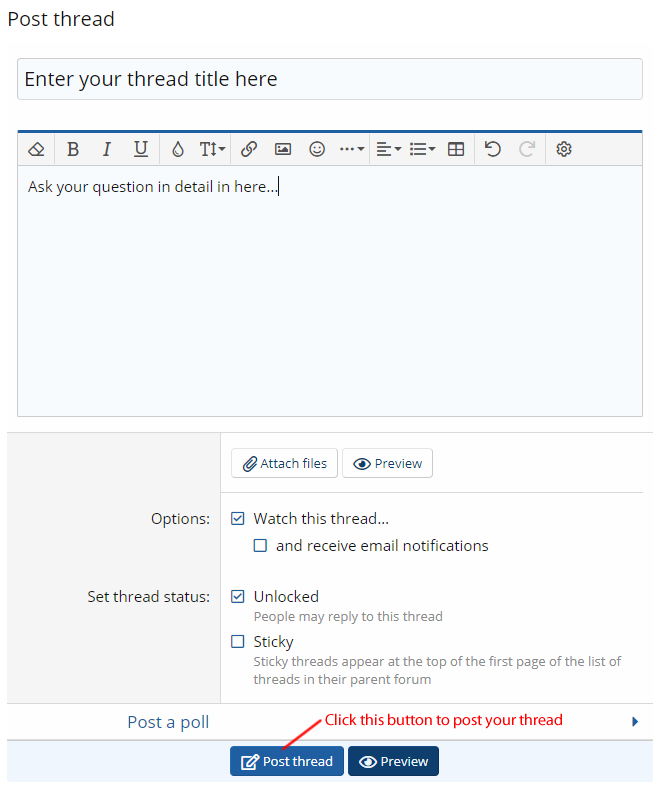 Replying to a Thread
To reply to an existing thread/post, use the "post reply box" at the bottom of every thread - just type in your message and click the "post reply" button.

Attaching an Image (or other file)
If you'd like to attach an image (or other supported file type) to your new thread or reply, click the "attach files" button underneath the text editor. This will let you browse your computer to choose files to attach to the post. Once you've selected and uploaded them, you can leave them as thumbnail attachments at the end of the post or choose to insert them into the content of the post.