Quick Scotty, beam me up!
Joined

Oct 27, 2009
Messages

4,955
Reaction score

1,302
From: Mozilla Wiki
DRAFT This page is not complete.

​
After Firefox 3.6 ships in January, the Firefox team has identified the following features to ship in Firefox in 2010 (not a comprehensive list, but the major user-facing focus points):
Multi-process plugins (Flash crashes/instability don't bring down the browser)
Transition to jetpack extensions
New UI stuff: new Windows menu structure, platform integration
Weave
Updater v2.0: updates which don't interrupt the user
More responsive UI (async I/O)
Better startup time
Integrated Developer Tools
There are two major release vehicles available for these features: a stability release in Q1, and a major feature release which will preview in June/July and ship later in the year.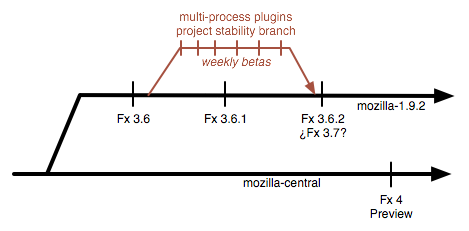 In order that out of process plugins can get widespread testing while not disrupting our ability to ship regular security updates, a special project branch will track mozilla-1.9.2: weekly betas with multi-process plugins will allow for quick iteration and widespread testing.
Alternate Proposal: Firefox 3.7
In this alternate proposal, there is an intermediate release (Firefox 3.7) in June 2010 which is intended to be an unprompted (minor) update to Firefox 3.6. The purpose of this release is to ship web-facing features which are being prepared on mozilla-central, but are not good candidates for being backported to 1.9.2:
D3D rendering on Windows
multi-process tab rendering for Fennec, but not Firefox
low-level debugger support
SMIL
CSS transitions
CSS calc
WebGL
HTML5 parser?
Layers?
See also Userbaron/1.9.3_Alpha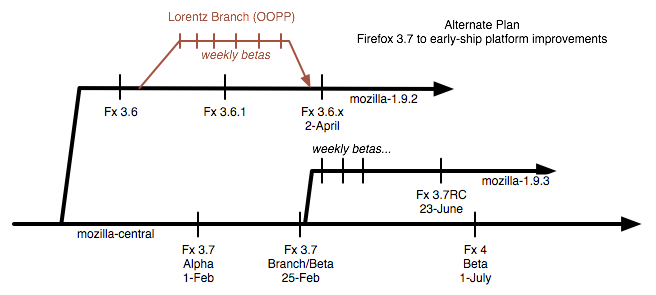 Alpha1: ASAP Branch+Beta: 25-Feb (no later than 4-March) Final: 23-June
Details: 1.9.2 branched on 2009/08/13. Up through Feb 25 that's 6.5 months. At 6 weeks stabilization per three months development, that's 13 weeks of stabilization, or about 3 months. That puts stabilization as done at late May if the branchpoint is Feb 25. A few weeks for slack, and we get our late-June final.
The tradeoff of this release would be that web features would get to users sooner, while the proposed UI features would be delayed until later in 2010.
SOURCE